RTW Location Planning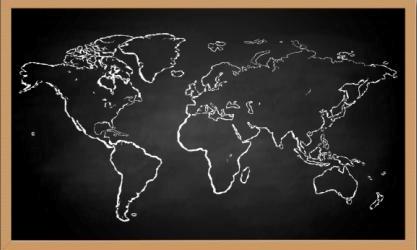 RTW location planning is one of the most enjoyable parts of the entire process. Whether you use a fold out map or something a little more high-tech, picking out locations can be a lot of fun.
I've pulled a list of countries from Wikipedia which are separated into continents and regions. For now, we're not going to worry about our route. We can figure that out after we've picked our locations. Oh, and get a word document open or grab a piece of paper. You'll need it for this.
Get Started
Click on the box next to the region and start looking at countries. As you see one that tickles your fancy, go ahead and write it down. Some people find it easier just to copy/paste all of the countries into a word file and then delete what they don't want.
Remember that we're not worried yet about how we're going to get there or what city you'll be visiting in that country. If the country looks cool, go ahead and put it on your list.
Africa:
Algeria
Angola
Benin
Botswana
Burkina Faso
Burundi
Cameroon
Cape Verde
Central African Republic
Chad
Comoros
Congo, Democratic Republic of (Congo-Kinshasa)
Congo, Republic of (Congo-Brazzaville)
Côte d'Ivoire (Ivory Coast)
Djibouti
Egypt
Equatorial Guinea
Eritrea
Ethiopia
Gabon
Gambia
Ghana
Guinea
Guinea-Bissau
Kenya
Lesotho
Liberia
Libya
Madagascar
Malawi
Mali
Mauritania
Mauritius
Mayotte
Morocco
Mozambique
Namibia
Niger
Nigeria
Réunion
Rwanda
Saint Helena, Ascension and Tristan da Cunha
Sao Tome and Principe
Senegal
Seychelles
Sierra Leone
Somalia
Somaliland
South Africa
Sudan
Swaziland
Tanzania
Togo
Tunisia
Uganda
Western Sahara
Zambia
Zimbabwe
Asia:
Abkhazia
Afghanistan
Akrotiri and Dhekelia
Armenia
Azerbaijan ]
Bahrain
Bangladesh
Bhutan
British Indian Ocean Territory
Brunei
Cambodia
China
Taiwan
Christmas Island
Cocos (Keeling) Islands
Cyprus
Georgia
Hong Kong
India
Indonesia
Iran
Iraq
Israel
Japan
Jordan
Kazakhstan
Kuwait
Kyrgyzstan
Laos
Lebanon
Macau
Malaysia
Maldives
Mongolia
Myanmar (Burma)
Nagorno-Karabakh
North Korea
Northern Cyprus
Nepal
Oman
Pakistan
Palestinian territories
Philippines
Qatar
Saudi Arabia
Singapore
South Korea
South Ossetia
Sri Lanka
Syria
Tajikistan
Thailand
Timor-Leste (East Timor)
Turkey
Turkmenistan
United Arab Emirates
Uzbekistan
Vietnam
Yemen
Oceana:
American Samoa
Ashmore and Cartier Islands
Australia
Baker Island
Cook Islands
Coral Sea Islands
Fiji
French Polynesia
Guam
Howland Island
Jarvis Island
Johnston Atoll
Kingman Reef
Kiribati
Marshall Islands
Micronesia
Midway Atoll
Nauru
New Caledonia
New Zealand
Niue
Norfolk Island
Northern Mariana Islands
Palau
Palmyra Atoll
Papua New Guinea
Pitcairn Islands
Samoa
Solomon Islands
Tokelau
Tonga
Tuvalu
Vanuatu
Wake Island
Wallis and Futuna
Here's an example of what I had for one region at the end of this step.
Pretty simple, eh?
Get Specific
Once you've got a decent list of countries on your list, it's time to get a little more specific. The Internet is great for this sort of work and you can find a lot of useful RTW location planning information this way. Head over to websites like Wikipedia, Lonely Planet, and TripAdvisor. Each country will have its own page or forum. These sites are treasure troves of information about specific things to see and do. The only downside is that a lot of them are geared more for the tourist than traveler, but you will find some diamonds in the rough.
As a follow up to the above, you may want to Google each country name plus the words "Travel blog" (For example: Mexico Travel Blog) You'll need to sift through the results a bit, but you'll find plenty of great blogs to pull ideas for RTW location planning.
RTW location planning isn't something you'll knock out in an hour. This will take you days if not weeks. Take your time and have fun with it. As you read up on the locations and come across an interesting place to visit, be sure to write it down under that country! By the end of this step, you should have a pretty formidable list of countries and cities/attractions.
I keep all my notes in Evernote, but I copied a few over to Word as an example of what yours may look like at the end of Step 2.
You'll notice some countries didn't make the cut. Upon further research, you may change your mind about visiting a country. That's perfectly fine. We're still in the planning stages anyway.
By the end of our RTW location planning, we should have a rough idea of where we want to go. Now we're going to look at when to go there.