Costa Rica Facts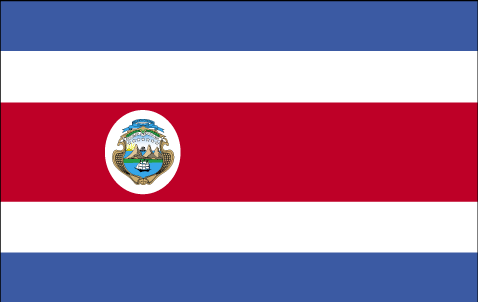 In lush Central America, nestled between Nicaragua and Panama, Costa Rica is an exceptional destination to visit. If you're unconvinced, here are some Costa Rica facts to sway your opinion.
Although the infrastructure of Costa Rica is somewhat non-standard (no formal address system for structures, some roads and highways in exceptionally bad shape, corrupt business system, national army abolished) the draw of the country is its natural beauty and friendly people. The East coast borders the Caribbean and the West coast stretches into the Pacific, so swimming and surfing are quite good. The dozen or so rivers between the coasts provide rafting trips, some of which can last for several days.
Bobbing down the Pacuare or Savegre can become an unintended segue into Costa Rica's real claim to fame: its wildlife. Almost a quarter of the nation's landmass is either protected, or part of a national park; Costa Rica is estimated to contain 5-6% of the world's biodiversity. Additionally, it is considered the 'greenest' country. As a result, many "eco-tourists" visit Costa Rica to experience or research the natural cornucopia of its wilderness.
Concern for the preservation of life extends to humans as well as animals. Unlike many other Central American nations, Costa Rica's water is usually potable, and their doctors are considered some of the world's best (and cheapest). Costa Rican's are also exceptionally tolerant of gay and lesbian tourists. However, some of the more conservative visitors may be shocked to learn that this nation's social liberalization also includes legalized prostitution, and most officials turn a blind eye to marijuana possession and use. For those who enjoy gambling, it is also a huge money-maker for the economy and casinos are a common site.
Quick Info:
Capital: San José
Language(s): Spanish
Religion(s): Roman Catholicism
Currency: Costa Rican colón (CRC)
Electricity Voltage: 120V
Calling Code: +506
Popular Travel Destinations:
Monteverde Cloud Forest Reserve
Arenal Volcano & Hot Springs
Drake Bay & Corcovado National Park
Official Website: www.tourism-costarica.com/
Travel Forums:
*Note* - Some of the graphics on this page were taken from the CIA World Factbook which contains a wealth of information on every country in the world. I highly recommend it.