American Virgin Islands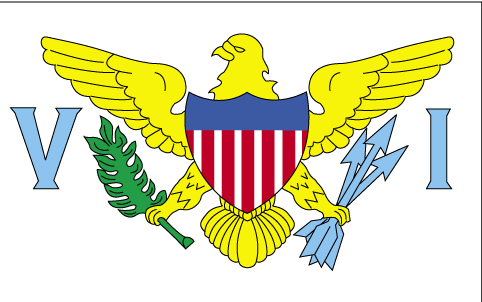 The American Virgin Islands are a small, unincorporated U.S. territory between the Caribbean and North Atlantic, and one of the few islands in the region not self-governing or owned by the French or Dutch. The three U.S. Virgin Islands-Saint Thomas, Saint John, and Saint Croix-benefit from trade winds and low humidity, making them a popular Caribbean destination for travelers.
Besides stunning beaches, the Virgin Islands are home to the Buck Island Reef National Monument. Although the name would imply a structure, it's essentially a preserve for Buck Island Reef, one of the finest marine gardens in the Caribbean. The Christiansted National Historic Site and Virgin Islands National Park give travelers a glimpse of both the stunning wildlife and terrain of the islands, as well as the history behind the islands, going back to the 1700's.
The U.S. Virgin Islands are also an excellent locale for the art connoisseur. The artistic community on the islands is thriving, and there are many galleries open for viewing. Like the jewelry and diamonds the Virgin Islands are famous for selling, purchasing art can be expensive, but all shopping on the islands is duty-free.
Much of the food on the Virgin Islands is seafood based (especially saltfish), and incorporates local fruits like papaya, soursop, genip, mango, and sugar apple. As well, many islander snacks are deep-fried and not for the health conscious.
Visitors with the intention or renting a car should keep in mind that the Virgin Islands are the only U.S. territory with left-side (British) driving laws.
Quick Info:
Capital: Charlotte Amalie
Language(s): English
Religion(s): Christianity
Currency: United States Dollar (USD)
Electricity Voltage: 110V
Calling Code: +1 (spec. +1-340)
Popular Travel Destinations:
St. Croix
Virgin Islands National Park
Emma United States Moravian Church
Official Website: www.visitUnited Statesvi.com/
Travel Forums:
*Note* - Some of the graphics on this page were taken from the CIA World Factbook which contains a wealth of information on every country in the world. I highly recommend it.