Uruguay Facts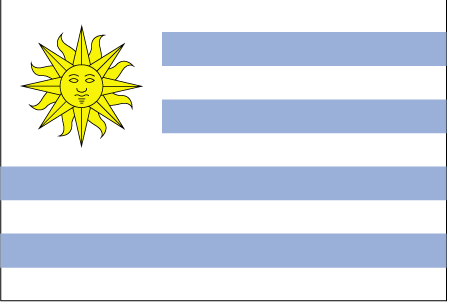 Here are some Uruguay facts: Uruguay is one of the smallest countries in South America. Like Guyana, its name comes from the Arawak language, and means "river of the colorful birds." It is sometimes referred to as the Switzerland of South America, on account of its consistently stable democracy and highly-socialized government, which includes free education. As a result, Uruguay is a desired point of immigration for the people of surrounding areas seeking opportunity, but likewise, its own well-educated citizens tend to immigrate to wealthier nations. Despite its relative stability, there has long been strife between the civil government and the Tupamaros, a Marxist guerilla movement.
Like its neighbor, Brazil, Uruguay is quite fond of its futbol, and travelers should attempt to see a match between Nacional and Peñarol, the two most famous teams in the country. After the game, why not enjoy a chivito, a local sandwich stuffed with tomato, lettuce, onion, eggs, ham, bacon, mozzarella cheese and mayonnaise and fries. Food in Uruguay tends to be quite fattening (see: delicious), but for the visitor seeking leaner eats, Uruguay's coastline on the Atlantic provides the country with some fantastic seafood.
As mentioned, Uruguay is very socially progressive. Women in Uruguay were allowed to vote twelve years before France passed similar legislation, and the LGBT community is given full rights to civil unions, which give all the same benefits as a marriage. As well, Uruguay is a completely secular state. Travelers should learn some conversational Spanish before visiting. Although students are taught some English, it is rarely spoken in the country.
Quick Info:
Capital: Montevideo
Language(s): Spanish
Religion(s): Christianity
Currency: Uruguayan peso ($, UYU)
Electricity Voltage: 220V
Calling Code: +598
Popular Travel Destinations:
Casa del Pueblo
Museo del Mar
Punta Narbona Winery
Official Website: www.visit-uruguay.com/
Travel Forums:
*Note* - Some of the graphics on this page were taken from the CIA World Factbook which contains a wealth of information on every country in the world. I highly recommend it.