Where is Albania?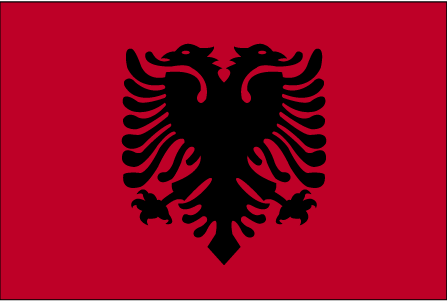 Where is Albania? It's located in the Balkans, bordering Greece, Macedonia, Kosovo, and Montenegro. Following the end of World War II, Albania became a Communist dictatorship, ruled by Enver Hoxha, and the country became famous for its isolationist policies. Today, however, Albania is democratically ruled and a NATO member. The country is filled with beautiful sights and rich history, and it's people are indomitably good-spirited and friendly.
Because of its mediteranean climate, the coasts of Albania are quite beautiful, featuring turquoise seas and white sand beaches. There are also many gorgeous mountains, like the Alps, or the Dajti mountains, which overlook the capital city of Tirana. Like many cities in Albania, much of the historical architecture is preserved, which includes lavishly built mosques (Albania is predominantly Muslim) and ancient castles. Some of the cities and architecture even date back to the Ottoman occupation of the area, like Berat and Gjirokastër.
Albanians are extremely kind and hospitable, especially to travelers. Police officers will rarely ticket foreign drivers, and locals tend to be exceptionally polite. As a result, food is very important to Albanians, and many Albanians will make their own bread, cheese, beer, or liquor. While in Albania, it's recommended to try a byrek, a type of savory pie often filled with feta cheese and spinach (not unlike the Greek spanakopita) or the preference liquor, raki, which Albanians sometimes make with mulberries.
The folk music of Albania-gheg, lab, and tosk-often feature obscure rhythms, and are used as a vehicle for oral history. Audiences can be quite passionate, and a performance is not to be missed.
Quick Info:
Capital: Tirana
Language(s): Albanian
Religion(s): Islam
Currency: Lek (ALL)
Electricity Voltage: 220V
Calling Code: 355
Popular Travel Destinations:
Market Sanderberg
Et'hem Bey Mosque
Tabakeve Bridge
Official Website: www.albaniantourism.com/
Travel Forums:
*Note* - Some of the graphics on this page were taken from the CIA World Factbook which contains a wealth of information on every country in the world. I highly recommend it.