Where is Suriname?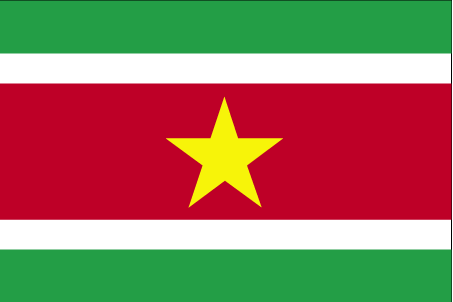 Where is Suriname? Well, as one of the Guianas, it's located along the Atlantic coast of South America, and borders French Guiana, Brazil, and Guyana. It is the smallest independent country in South America. Unlike most of the surrounding nations, the main spoken language is Dutch, as it was originally a colony of the Netherlands. Since its independence in 1975 it has seen some rocky transitions, including two military regimes. Today it is a constitutional democracy.
Suriname is a very sparsely populated nation, as the only easily livable conditions exist around the coast. The rest of the country is dense and untamed rainforest. Paramaribo, the only city in the country, is also the capital, and is an inevitable destination for travelers. The colonial architecture of Paramaribo is quite stunning. As well, the food in the more populated areas of Suriname is an interesting blend of cultures, from Indian and Javanese, to more traditional Spanish cuisine. As well, the locally-brewed beer, Djogo, comes in cans and 1-liter bottles, as either a lager or a stout.
The real draw for those traveling to Suriname is the uncharted southern part of the country. About 12% of the country's landmass is composed of nature reserved, and as such the biodiversity of Suriname is exquisite. Suriname features many scenic rivers and waterfalls in addition to lush rainforests.
Travelers should attempt to see the locals dance the kaseko, a fast a rhythmically-complex dance, the name of which is derived from the French "casser le corps", meaning "break the body". It typically features call-and-response singing, and is quite rousing to behold.

Quick Info:
Capital: Paramaribo
Language(s): Dutch
Religion(s): Christianity
Currency: Surinamese dollar (SRD)
Electricity Voltage: 127V
Calling Code: 597
Popular Travel Destinations:
Albina Village
Parimaribo Zoo
Presidential Palace
Official Website: www.suriname-tourism.org/
Travel Forums:
*Note* - Some of the graphics on this page were taken from the CIA World Factbook which contains a wealth of information on every country in the world. I highly recommend it.