Where is Nepal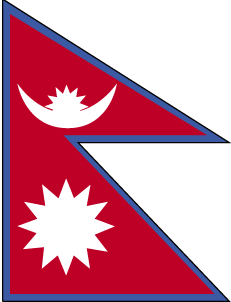 A geographically diverse country approximately the size of Arkansas, Nepal is home to Mt. Everest, as well as eight of the 10 highest peaks in the world. Kathmandu, the largest city in this country of approximately 29 million people, boasts of a population of 1.2 million. With India its southern neighbor and China to the north, Nepal offers mountains, glacier fields, and snow as well as subtropical jungles to adventurous travelers.
Nepal offers the challenge of great linguistic diversity with Nepali, the official language, rooted in Hindi and Punjabi. A country with many religious factions, Hindu, Buddhist, and Islam constitute the main denominations.
Trekking and other adventure sports lure the greatest number of visitors. Although it can be a dangerous activity, group trekking offers the greater safety of numbers. Other activities include jungle safaris complete with elephant rides and whitewater rafting in rivers suitable for beginners or experts. Nepal also offers mountain biking routes for biking enthusiasts.
A country of ancient religions, Nepal sports many festival days. Bhairav Kumari Jatra consists of five days of nonstop dancing to honor two Buddist deities while Rath Yatra is notable for its 18 foot tall chariot pulled by followers to commemorate Lord Krishna's birthday. Tourists can visit the many temples for a taste of Nepalese culture and art.
Visitors need a passport and visa to enter the country with Tribhuvan International Airport the main port of entry via air. Bus, train, and private vehicles may enter Nepal at several border points of entry. Travelers must declare any cash in excess of $5,000 or face prosecution for violating Nepal's currency exchange laws.
Quick Info:
Capital: Kathmandu
Language(s): Nepal
Religion(s): Hinduism
Currency: Nepalese rupee (NPR)
Electricity Voltage: 230V
Calling Code: +977
Popular Travel Destinations:
Mount Everest
Pashupatinath
Royal Chitwan
Official Website: welcomenepal.com/
Travel Forums:
*Note* - Some of the graphics on this page were taken from the CIA World Factbook which contains a wealth of information on every country in the world. I highly recommend it.