Where are the Maldives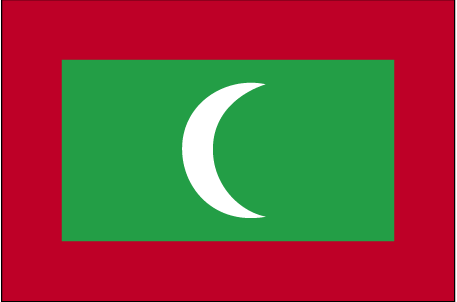 The Republic of Maldives is an island paradise in the middle of the Indian Ocean about 250 miles southwest of India and 435 miles from Sri Lanka. This double chain of 26 atolls is famous as a luxurious island getaway with amazing cobalt blue waters and stunning beaches fringed by palm trees.
Over the last few years, the horrific Boxing Day tsunami of 2004 and the El Nino coral bleaching have both badly affected the area, but the islands are quick to recover.
The entire island chain consists of ancient coral reefs that once grew on towering prehistoric volcanoes that have since sunk into the ocean. The remaining coral islands are incredibly beautiful and offer unparalleled opportunities to explore the underwater paradise surrounding the islands. Diving, snorkeling and sailing are all popular activities with visitors, and on land you can enjoy relaxing on the beach and exploring the lagoons.
The modern capital Male', is a densely populated tiny island with tall thin buildings, some great alcohol-free bars and restaurants. The shops and markets offer an opportunity for retail therapy if you need a break from the ubiquitous views of paradise. The governmental and business centers of the nation are all based in Male'.
Visitors to the Maldives do not require a visa, but must hold a valid passport and outbound air ticket to a destination that they can enter (with visa if needed). They must also be in possession of at least US $30 per person per day or a confirmed hotel reservation.
Quick Info:
Capital: Malé
Language(s): Dhivehi
Religion(s): Islam
Currency: Maldivian Rufiyaa (MVR)
Electricity Voltage: 110 or 220V
Calling Code: 960
Popular Travel Destinations:
National Museum in Male
Baa Atoll
Kudahuvadhoo
Official Website: www.visitmaldives.com/
Travel Forums:
*Note* - Some of the graphics on this page were taken from the CIA World Factbook which contains a wealth of information on every country in the world. I highly recommend it.