Travel Central African Republic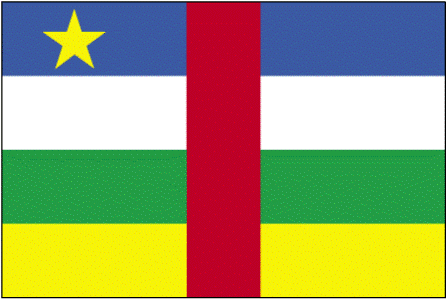 Planning to travel Central African Republic? Located (coincidentally enough) in the center of Africa, the Central African Republic is one of the poorest countries in the world. Winning independence from France in 1960, the country has gone through numerous political changes. Though the Central African Republic has much to offer visitors in the form of its natural beauty and wildlife, the recent violence with neighboring countries along with its central location, makes many tourists leery of visiting.
Just above the equator in the middle of Africa and away from water, the Texas size country of Central African Republic borders Chad, Sudan, the Democratic Republic of the Congo, Cameroon and the Congo. The weather is hot all year round, though the winters tend to be dry while the summers are wet.
The Central African Republic has more than 80 ethnic groups that speak French, Sango, or both. A major city and the capital, Bangui sits in the south central part of the country.
Travelers to the Central African Republic can enjoy day trips through the Dzanga-Sangha National Park, where they can find elephants, gorillas and local tribes. A visit to the city of M'Baiki to see its rainforests might be of interest to some while viewing the ebony sculptures of Sabe may intrigue other travelers. Sunday tours through Chutes de Boali allow visitors to view the waterfall that makes Niagra look small.
For visitors that prefer people to wildlife, the markets provide an opportunity to shop for ebony, gold, art and butterfly collections. Bartering with villagers outside the city markets is a great way to obtain handmade items at a small cost but travelers should take precautions to avoid muggings or violent encounters. There have been reports of violence against visitors, so proper research and preparation is suggested.
Quick Info:
Capital: Bangui
Language(s): Sango, French
Religion(s): Christianity
Currency: Central African CFA Franc (XAF)
Electricity Voltage: 220V
Calling Code: 236
Popular Travel Destinations:
Musee de Boganda
Marche Central
Place de la Republique
Official Website: http://www.centrafricaine.info/en.html
Travel Forums:
*Note* - Some of the graphics on this page were taken from the CIA World Factbook which contains a wealth of information on every country in the world. I highly recommend it.