Ivory Coast Africa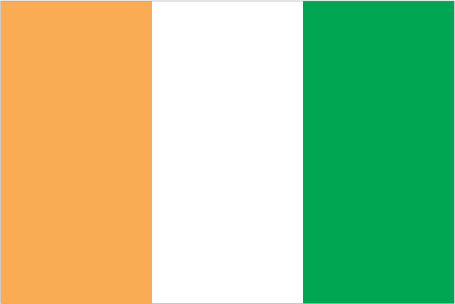 Just an FYI if you're wondering where is Ivory Coast on any recent maps - The Ivory Coast officially changed its name to Côte d'Ivoire in 1985. Though many government departments do recognize the country by that name, it is still commonly referred to as the Ivory Coast by most Enlgish-speaking travelers.
Located in West Africa, Cote d'Ivoire or "Ivory Coast" neighbors Ghana, Burkina Faso, Mali, Guinea, Sierra Leone and Liberia. Mainly tropical near the coast and semiarid in the north, the climate features three seasons - warm and dry from November till March, hot and dry from March till May, and hot and wet from June to October. Overall, the terrain is flat.
Previously under French rule, Cote d'Ivoire has suffered great political upheaval and bloodshed, but has now regained its stability. Infamous for the highways going straight into the jungle, the capital Yamoussoukro was designed to be a bustling metropolis, but despite the multi-lane streets, hardly any houses exist. However, it does have the biggest basilica in the Christian world, the Basilica of Our Lady of Peace of Yamoussoukro, consecrated by Pope John Paul II.
The biggest city in the country, Abidjan offers much greater variety such as the Parc du Banco with rainforest flora and fauna. Also present are Africa's largest open launderette and St. Paul's Cathedral seating 3,500 people.
The small town of "Man" is directly in the center of Ivory Coast Africa and is famous for its Yacouba masks and traditional fabrics. Visitors may find climbing the 4000 foot Mount Tonikoui the perfect adventure, or enjoy fishing and rafting the rivers.
Although the civil war is long over, the political instability and inefficient management have led to a compromised economy and poor standards of living. However, buildings of grandeur like Hotel Ivoire offer the opportunity to experience the Ivory Coast Africa in complete comfort if you're looking for that kind of thing.
To repeat myself, at the time of this writing, the Ivory Coast is just entering peace after almost a decade of civil war. Before this, the tourism industry was reasonably well built and trip reports coming out of the region were almost always positive. With the end of hostilities, it remains to be seen what the future will bring. Just keep an open mind and remember to enjoy yourself!
Quick Info:
Capital: Yamoussoukro
Language(s): French, Baoule', Dioula, Dan, Anyin and Cebaara Senufo
Religion(s): Islam and Christianity
Currency: West African CFA franc (XOF)
Electricity Voltage: 220 V
Calling Code: 225
Popular Travel Destinations:
Cathédrale St-Paul
Museacutee National
Basilique de Notre Dame de la Paix
Official Website: www.cotedivoirepr.ci
Travel Forums:
*Note* - Some of the graphics on this page were taken from the CIA World Factbook which contains a wealth of information on every country in the world. I highly recommend it.