Democratic Republic of the Congo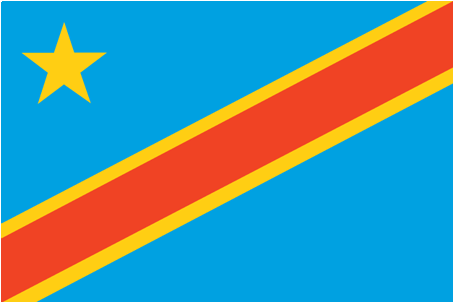 The Democratic Republic of the Congo (formerly known as Zaire) is a country roughly three times the size of Texas, located in the center of Africa. This country has definitely had some problems. It currently has a UN peacekeeping force providing security (mostly in the capital), but large swathes of the country are still extremely dangerous to residents and tourists alike. Rebel groups from nearby countries are a constant threat to travelers and even the country's own security forces are evidently not above extorting money.
So there's the bad. The good is that if the security situation ever resolves itself, this country should be on every traveler's itinerary. With this much landmass, the options are nearly limitless for wildlife lovers. Bonobos, forest elephants, and white rhinos are just a few of the numerous species that live here.
Located in south central Africa, the country borders Angola, Zambia, the Central African Republic, Tanzania, Burundi, Rwanda, Uganda, Sudan, the Republic of the Congo and the Atlantic Ocean. Located on the Equator, the country has a varying climate with cooler, wetter eastern highlands, hot, humid river basin and cooler, drier in the southern highlands. Its terrain is mainly a low-lying plateau with mountains in the east.
Nestled on the river Congo, Kinshasa is the third largest city in Africa and the capital, with eight million inhabitants and exclusive suburbs such as  N'Djili, the Cite de I'OUA for housing the African summit, and the rich Binza.
Sites of interest are the "University of Kinshasa Museum", housing ethnological and prehistoric relics, and the Institute of the National Museums of Congo, which presents historical heritage from colonial Africa to contemporary artists. Visitor should also visit the Fine Arts Academy and the Grand Marche flea market.
As further evidence of the diversity of wildlife and scenery, Goma offers a peaceful shoreline of Lake Kivu, the Virunga National park has its diverse species, and the Mount Nyirango volcano, which erupted in 2002. Similarly, Kasenga is the shopper's destination in the Congo with its bustling, thatch-roofed shops, while Lake Moero near Pweto has 'ndakal' fish that you only catch at night.
When visiting the Democratic Republic of the Congo always check the civil situation in the country as insurgencies may take place. Remember, never diverge from predetermined routes or stray from your group.
Here's hoping that travelers will be able to visit in safety soon.
Quick Info:
Capital: Kinshasa
Language(s): French,Lingala, Kikongo, Swahili, Tshiluba
Religion(s): Roman Catholic
Currency: Congolese franc (CDF)
Electricity Voltage: 220V
Calling Code: 243
Popular Travel Destinations:
Chez Gaby
La Ciboulette
Chez Maman Colonel
Official Website: http://www.kinshasa.cd/
Travel Forums:
*Note* - Some of the graphics on this page were taken from the CIA World Factbook which contains a wealth of information on every country in the world. I highly recommend it.