Congo-Brazzaville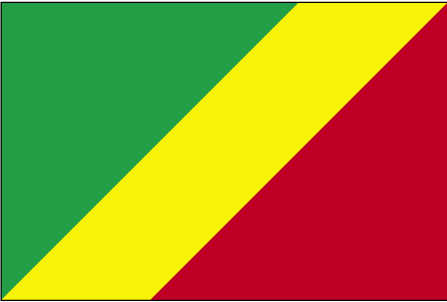 Located on the west side of Central Africa, the Republic of the Congo is another African country which has gone through political strife and civil war. Keep in mind this is not the Democratic Republic of the Congo (sometimes called Congo-Kinshasa); instead, this is the Republic of the Congo which you might hear referred to as "Congo-Brazzaville". The last rebel groups signed a cease fire in 2003 and aside from some tourist related crime in certain areas of the country, the Republic of the Congo is welcoming to visitors.
Located on the west African shore, Congo-Brazzaville borders Gabon, Cameroon, the Democratic Republic of the Congo, Angola and the Central African Republic. Predominantly tropical and equatorial, the climate has a dry season from June to October, a rainy one from November until May, high temperatures and oppressive humidity. The terrain is mainly flat, with a coastal plain and a central plateau.
A former French colony, Congo-Brazzaville has dense and impenetrable rainforests and a coastal strip with an emerging oil industry. The capital Brazzaville still retains a heavy French influence with tree-lined boulevards, cafes serving croissants and an air of peace unlike the neighboring Kinshasa. Street vendors and delicate restaurants entertain visitors, while the Marche Total, the main flea market, focuses on providing cheap, hard-to-find goods like guinea pigs, bats, manioc, and fresh peanut butter.
By contrast, in the suburbs the nightlife packs quite a punch. Traveling the dangerous route to Pointe-Noire guests see beautiful beaches perfect for sunbathing, surfing, hang-gliding and deep sea diving, and for the intrepid visitor - the dangerous white-water Congo rapids. The Odzala National park, on the other hand, presents Africa's most preserved tropical ecosystems, housing 80% of all African gorilla species, elephants and monkeys.
Despite its civil unrest and undeveloped infrastructure, Congo-Brazzaville boasts of being one of the most sophisticated nations. The Congolese are avid cooks, musicians, philosophers, football enthusiast and good listeners. Appreciative of humor and difference, they offer hospitality to foreigners and never lose their calm.
Being the Congo, the gorillas are obviously a huge draw and hundreds of tourists visit each year to see them. However, many visitors are surprised to find that the country offers more than just the primates it's famous for. While the tourism industry isn't very established, the savvy traveler should have no issue finding a place to stay and fun things to do.
Quick Info:
Capital: Brazzaville
Language(s): French,Kongo/Kituba, Lingala
Religion(s): Christianity
Currency: Central African CFA franc (XAF)
Electricity Voltage: 220-240 Volts
Calling Code: +242
Popular Travel Destinations:
National Parc Ndoki-Nouabale'
Lesio-Louna Gorilla Reserve
Brazzaville's Waterfalls
Official Website: http://www.republicofthecongo.presidentoffice.in/
Travel Forums:
*Note* - Some of the graphics on this page were taken from the CIA World Factbook which contains a wealth of information on every country in the world. I highly recommend it.